Wooden trains Brio don't just sound great on paper because they also offer hands-on play that makes them perfect not only for home use but even in schools.
A Quick Look at Brio Trains
If you are looking for high play value and high quality wooden trains right from the beginning, Brio is definitely your number one go-to brand. In fact, there are a lot of parents who can still recall the brand from their very own childhoods and there are even grandparents who were still able to keep their Brio wooden train sets right in their own attics that they can pass on to new generations of children and grandchildren.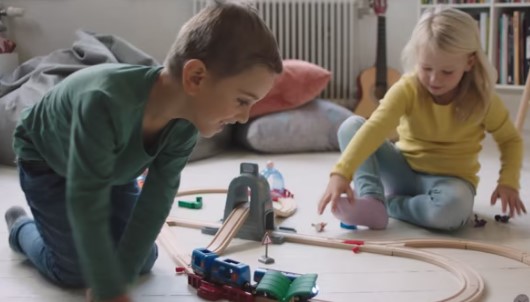 Brio continues to carry on its legacy of good design and quality and the company's offerings have now become more modernized in terms of materials and style alike. Many regular train sets from Brio feature trains made mainly of plastic. However, you can be sure that the plastic used is extremely heavy duty and high quality stuff. There are also Brio Classic sets in line with what most people recall of Brio from bygone years – wood parts that include the trains with the classic Brio appearance.
But, whether you go for classic or modern, you can be sure that you will get your money's worth once you purchase a Brio set. Wooden trains Brio have been considered as the standard for wooden trains for many years now. As long as a wooden train brand is compatible with other brands, you can be sure that it will also be well-matched with Brio.
Why Choose Wooden Train Sets?
Wooden train sets or railway play systems have long been part of the world of toys. These are tried and tested play systems and educational tools that kids across the globe have been enjoying for several decades.
Unlike train sets that run on electricity and are often designed for adults and older kids, wooden systems are especially made for play purposes instead of modeling. Below are some of the benefits that wooden train sets have to offer:
Perfect for all ages
Wooden train sets are great not only for children but even for adults as birthday presents and even Christmas gifts. Also, since the individual track components and locomotives are affordable, kids can easily improve their sets further with additional pieces and bits make their layouts much better.
Educational play
Developing railway layouts of your own using modular track sections offers an educational value that can go way beyond than just pushing around the vehicles. Through letting your kids play with wooden trains Brio can help them understand the basic concepts of geometry and the importance of planning ahead. These train sets might expose a child for the first time to idea of the differences of straight and curve sections.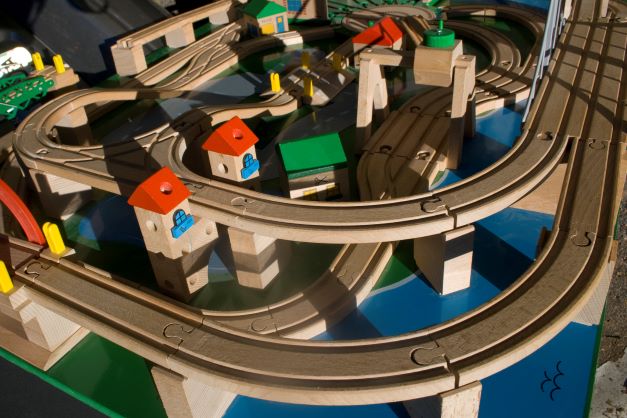 Universal system
Almost all wooden track sections could be connected to one another. Even if there are a lot of different manufacturers of these systems across the world, many of them feature a circular tab system. It means that almost all wooden track sections could be connected to one another even if rival companies made them. You can actually find several wooden systems that go well with plastic ones.
Long-lasting
Wooden train sets can also be very robust. Once you buy them, you will surely be surprised that they can outlive the development years of your child. Even if the wooden train set has been unused for a long time, you can be sure that it will remain in a perfectly good state.
Simply put, these products offer a great deal of playability, making them in demand even in the secondhand market. These can also come in handy at schools and nurseries where they will be played with often for many years.
Benefits of Letting Children Play with Trains at an Early Age
All kids love playing with trains at a very young age. Although many parents seem to think that their children are only playing, the truth is that trains can benefit them in more ways than one.
Keep in mind that playing with toys doesn't mean that your kid is wasting time. Instead, this is a crucial part of the developmental years of your child.
Below are the endless ways of how assembling train tracks can benefit children:
Communication and vocabulary
As your child plays with trains, the descriptive commentary you make can help them in their vocabulary and communication skills. It will let your child understand the world around him.
Creativity and imagination
Letting your kid play with trains at an early age will also help develop their creativity and imagination. Lack of imagination and not being creative can make life boring for everyone. For the society to move forward, it is vital to create new inventions. If your kid lacks both creativity and imagination, it will help if you let them play with trains. Your kid will imagine the scenarios of organizing train tracks together in various ways.
Fine motor skills
Fine motor skills can help at a very young age for the development of your child. This can help your child draw, write, and tie shoelaces. Through putting together the tracks and pulling around the trains, your child can soon hone his fine motor skills. Extra elements can also be added to further improve your child's fine motor skills.
Problem solving
Needless to say, problem solving is an important part of people's lives. This plays a critical role in overall success in life. Problem solving skills are essential for all areas of your life. Playing with trains such as wooden trains Brio can help them develop their problem solving skills. Once a child discovers how to put train tracks together, this will lead to problem solving.
As they play with trains, your kid will also think of ways of moving the train with no obstacles. The result is that it can help your child increase the ability of the train to move in an organized and smooth manner.