If you are looking for good quality toys, look no further. Hubelino PI Marble Run is a perfect choice for you. It's compatible with regular LEGO blocks and ideal for both kids and adults. But, what makes it unique?
There are many reasons why Hubelino PI Marble Run is a good investment and these include the following:
Unique Hubelino PI Marble Run System
It combines daring physics tricks with the most creative construction fun. The fascination of creating tricky marble run racetracks is topped only by action-packed and high speed stunts and tricks of steel marble.
The best thing about Hubelino PI Marble Run may be combined with theme worlds, figures, and building blocks from some manufactures because this toy is fully compatible with some plug-in systems.
Compatible With Some Common Building Blocks
Every component of Hubelino PI Marble Run is completely compatible with building blocks of renowned manufacturers. Therefore, you may combine your creative construction with figures and theme worlds of several manufacturers. With Hubelino PI Marble Run, the only limit is your imagination. If you have some classic building blocks at home, you may create a marble run with elements including tunnel adapters, ramp, straight, curve, and slide.
Premium Quality and Safe Toys For Kids
Hubelino PI Marble Run is made in Germany and has undergone good quality standards. This is the reason why you can be assured that your children will be safe from playing toys and experience nothing but fun and enjoyment.
So, if you don't want to waste your money on low quality toys, make sure to invest in Hubelino PI Marble Run because it is not just safe, but it is also made with quality materials that are proven to last for years.
Comes With a Manual and Let's You Enjoy Free Play
Hubelino PI Marble Run contains a step-by-step manual with good illustrations for you and your kid to enjoy playing without consuming too much time figuring out how to start using the toys. With the clear instructions, it's also much easier for you to learn daredevil tricks and turn any clever construction into a reality. Depending on your preferences or ideas, you may set up or combine Hubelino PI Marble Run in any way you want.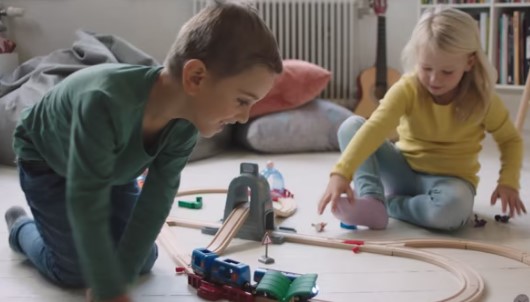 Read also next article: Wooden Trains Brio and Their Exciting Benefits
This Swedish-designed train set and a favorite in Europe. They sell 3 different train set styles including a classic train set line featuring only wood and no plastics. Their most popular modern Brio World train line is wooden with ABS high-quality plastic components with real working parts. 
What To Know about Hubelino
With Hubelino, imagination grows with it. Since 2008, the company has inspired the thinkers and tinkerers of tomorrow. All of the Hubelino products are 100% compatible with the standard bricks offered by some manufactures and made in Germany.
Based on the renowned plug-in modular system, Stefan Amels, the company founder, in cooperation with Peter Lippert, has created product worlds which turn any existing child's toy to an expandable and exciting toy. Together, they want to inspire the thinkers and inventors of the future to broaden the horizons constantly and create good things with some clever ideas.
Below are the unique traits of Hubelino toy products:
Safety and Quality
At Hubelino, they take their responsibility seriously. That is the reason why all products are made in Germany. The company is proud to provide long-lasting products, which have a label that is it's made in Germany and compatible with the bricks made by some leading manufacturers.
To ensure product safety, all of their products are subjected to strict mechanical and chemical testing in accordance with particular specifications, international standards, and regulations. The products at Hubelino also undergo careful quality control and made using quality ABS plastic, which is free of phthalates and heavy metals. The marble run system's design is patented worldwide.
However, it is important to remember that the marble run products have a certain age recommendation due to the included marbles. The products of Hubelino are suggested for children 3 years of age and up. Every Hubelino product without marbles is authorized for kids from 1.5 years of age and up.
Manufactured in Germany
As long-standing and loyal companions of little thinkers, inventors, and master builders, Hubelino has to endure a lot and bears a great responsibility. They are also aware of that responsibility and produce all items exclusively in the country of Germany. With the production facilities of Hubelino, they are able to meet quality standards and subject quality items to extensive testing procedures.
Pedagogical Value
When it comes to the products of Hubelino, the focus is on balanced relationship between learning and fun effect. That is the reason why new product development focuses on learning content always. Some learning content may include clever design and basic physical law, making the toy with pedagogical value. With quality toys, they want to enable thinkers and inventors of tomorrow to make good things and make contribution to the future.
Compatible
Every Hubelino product fits perfectly with other building blocks of various brands and complements the current stock of the building blocks. Thus, there's no new system to be brought into the kid's room. However, the existing system can be expanded creatively and meaningfully. Thus, the toys can be played and used for a long period of time.
Other than that, Hubelino products are part of Hubelino system and compatible with the modules from some manufactures of the known plug-in module system. As results, every Hubelino product may be expanded without any limits and have various degrees of difficulty because of innovative extensions.
Get Hubelino PI Marble Run and Have Some Fun!
Hubelino PI Marble Run is a unique toy and as sturdy as some toy brands in Germany. But, compared to other brands, Hubelino toy products undergo all types of tests and inspection to ensure quality.
The sale price of this toy is very affordable and contains everything you need to build a set. The construction manual contains an example that you may build by steps. With this in mind, you need to look closely at the photos. You also need to press the pieces properly to make the set sturdier.
Another thing about Hubelino PI Marble Run is that it's colorful enough to make any kid enjoy every moment. It has also cool and minimalist design. All in all, everything about this toy is impressive and definitely worth your investment, especially in terms of quality.